So I thought I would share with you my latest findings for the Greystone Development in Birmingham, AL.  Greystone is located in the Hoover area of Birmingham, in north Shelby county.  Over the past 12 months the mean sales price of all homes in this subdivision has varied due to the type of homes that have sold, but the trend line in values has been rather steady.  There is a wide range of home prices within Greystone as homes vary from small garden homes on slab foundations to large custom built luxury homes with basements on acreage lots.
This variety of homes results in extreme differences between the low sales price to the high sales price.  See the graph below reflecting the mean sales price of homes for each month over the past year.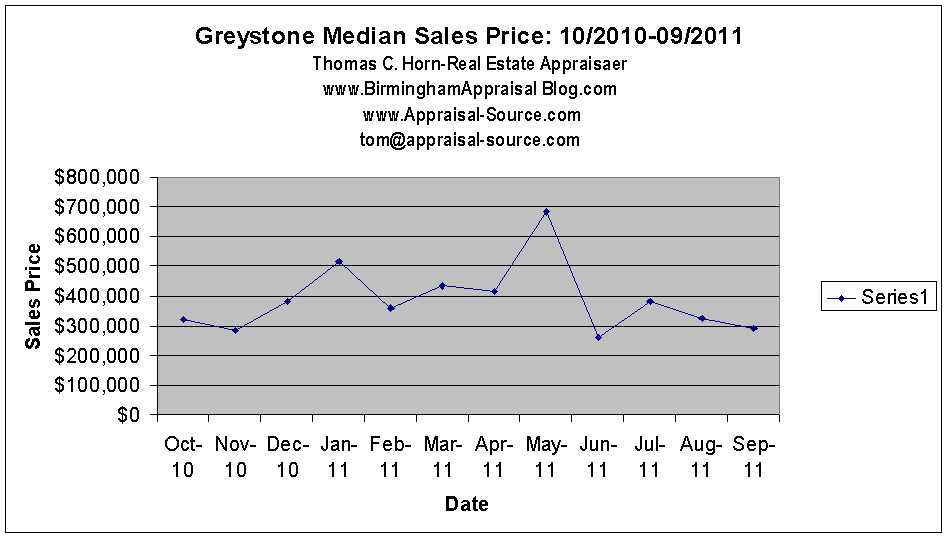 Over the past 12 months there have been approximately 137 homes sold with an average inventory of 9.81 months, which is considered an oversupply.  The average days on market is 136, or roughly 4.5 months.  The average sales price to list price ratio is 93.03%, which is low as it typically runs around 96-97%.  This could be due to the need to drop the list price because the home has not sold.  This reinforces the fact that if a home is priced right it will sell.  It is critically important to price the home accurately at the beginning so that it sells within a reasonable time.
This information has been obtained from the Birmingham MLS.  Are you familiar with the Greystone market?  What do you see happening?
If you have any real estate appraisal related questions you can call me at 205.243.9304, email me, or connect with me on facebook.